August 13 –  The southwest monsoon-induced lightning, floods and landslides have claimed 227 people across states including West Bengal, Uttarakhand, Gujarat, Andhra Pradesh and Kerala in the country, Indian media reports said.
The death toll in Kerala, the worst affected state in the south, rose to 80, even as the India Meteorological Department (IMD) issued a red category warning — an alert for authorities to kick into rescue and rehabilitation mode — for Chhattisgarh, Madhya Pradesh and east Rajasthan. Heavy to very heavy rainfall was also predicted for Kerala, Karnataka, Konkan region, Odisha, and Vidarbha region of Maharashtra on August 13 and 14.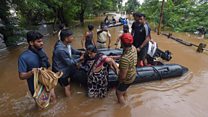 In Dehradun's Chamoli district, landslides triggered by heavy rains killed six people, including an infant, who were buried after their houses collapsed due to downpour. Two buildings were swept away by the flooded Chuflagad river and roads to Himalayan shrines were blocked by landslip debris. The Ganga in Haridwar and Kali in Pithoragarh district are flowing a few notches below the danger mark. In Jammu and Kashmir, three members of a family died after they came under a boulder during a landslide in Resai district.
As many as 16 people, including four farmers, have been killed by lightning in five districts, including Purulia, East Midnapore and Hooghly, in West Bengal since Sunday.
flood
english, INTERNATIONAL